49th Annual Dance For Mother Earth Powwow
Hosted By:
University of Michigan Native American Student Organization (NASA)
Date(s) & Time:
Sat, Mar 25 2023, 10:30am - 10:30pm

Sun, Mar 26 2023, 10:30am - 6pm
---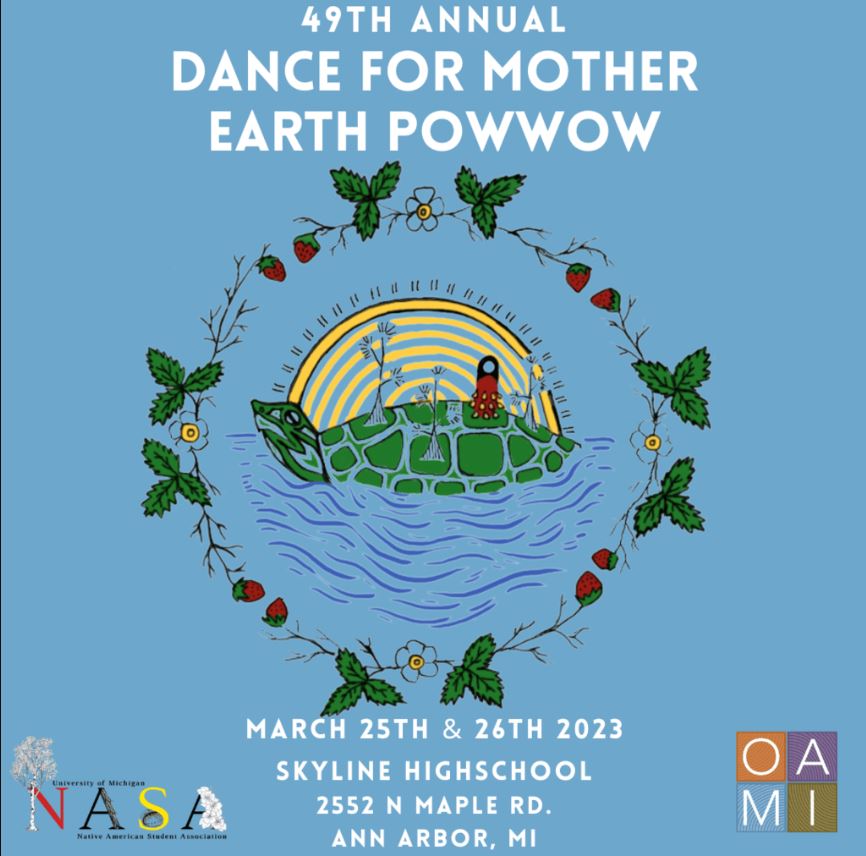 The Native American Student Association invites you to the 49th Annual Dance for Mother Earth Powwow
Saturday, March 25, and Sunday, March 26, 2023 
Skyline High School, 2552 N Maple Rd, Ann Arbor, MI 48103
We look forward to seeing everyone this spring!
OAMI partners with the Native American Student Association (NASA) to host the annual Dance for Mother Earth Powwow.
This event provides an opportunity for you and the U-M community to experience and honor Native American heritage and history.
The U-M Annual Dance for Mother Earth Powwow is one of the largest Powwows in the country hosting some of North America's greatest Native American singers, dancers, and artists.
We welcome the entire community to take part in celebrating this rich culture! This is your opportunity to witness Native dance and drum contests shop with Native artists and craftspeople, and dance alongside Natives of all ages and nations.
If you are an Alumnus of NASA please reconnect by emailing nasa.exec@umich.edu to see what we are doing these days!