31 Days of Foster Care Wishes: Greg and Molli (Day 5)
---
Greg and Molli - Lenawee County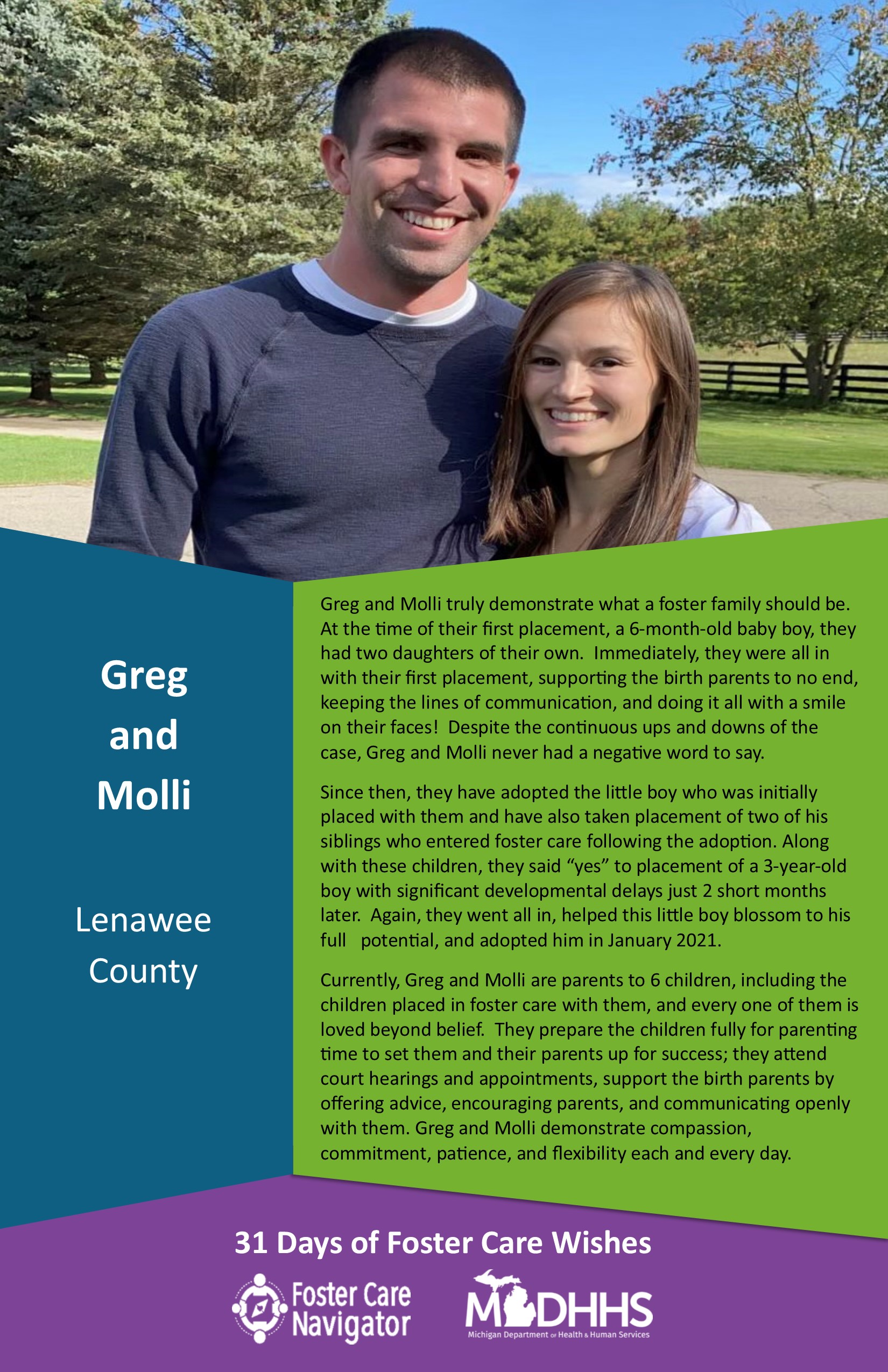 "Greg and Molli truly demonstrate what a foster family should be. At the time of their first placement, a 6-month-old-baby boy, they had two daughters of their own. Immediately, they were all-in with their first placement, supporting the birth parents to no end, keeping the lines of communication, and doing it all with a smile on their faces! Despite the continuous ups and downs of the case, Greg and Molly never had a negative word to say.
Since then, they have adopted the little boy who was initially placed with them and have also taken placement of two of his siblings who entered foster care following the adoption. Along with these children, they said 'yes' to placement of a 3-year-old boy with significant developmental delays just 2 short months later. Again, they went all-in, helped this little boy blossom to his full potential, and adopted him in January 2021.
Currently, Greg and Molli are parents to 6 children, including the children placed in foster care with them, and every one of them is loved beyond belief. They prepare the children fully for parenting time to set them and their parents up for success; they attend court hearings and appointments, support the birth parents by offering advice, encouraging parents, and communicating openly with them. Greg and Molli demonstrate compassion, commitment, patience, and flexibility each and every day."
To view Greg and Molli's original feature on our Facebook page, click HERE.
Find An Agency Near You
Agencies will give detailed information about licensing, training, and orientation.
Or Call
We are here to help
Mon-Fri: 8:30 - 5 and Wed: 8:30 - 7