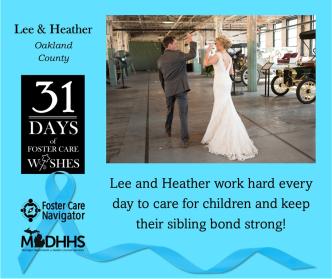 Dat Twenty-Two of 31 Wishes
---
Lee and Heather were licensed around the onset of the pandemic.  They accepted placement of a 3-day-old baby in April 2020 and learned the baby boy had two brothers who also placed apart from one another.  They knew about needs that the brothers had, including speech delays, food trauma and seizures and still offered to accept placement of them.  In June 2020, they brought the three boys together in their home.  Lee and Heather have taken exceptional care of all the boys, including monitoring one of the boy's temperature every hour overnight for months to ensure seizures did not return.  When the oldest brother was hospitalized due to his seizures, Lee and Heather took days off work and rotated to make sure one of them was at the hospital with him at all times so he would not be alone or scared.
Lee and Heather have gone over and above expectations to work with and advocate for these brothers.  Since the beginning, they have understood the case plan and have been willing to work with the agency and the parents.  If permanency is needed for the boys, they are also willing to adopt them to ensure the boys remain together in a family they know and love.  Nearly two years after reuniting these siblings, Lee and Heather continue working hard every day to care for them and keep their bond strong!
Find An Agency Near You
Agencies will give detailed information about licensing, training, and orientation.
Or Call
We are here to help
Mon-Fri: 8:30 - 5 and Wed: 8:30 - 7