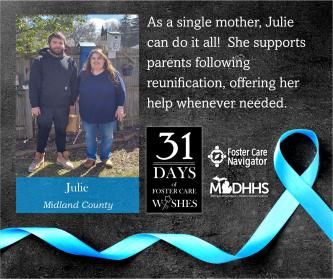 Day Twenty-One of 31 Wishes
---
Julie is a single caregiver who never shies away from taking on multiple placements at once.  Currently, she has three children placed with her.  She treats children like they are her own and advocates for them even if that means going against what others think.   Julie continues to stay in contact with many of the children who were previously placed with her.  In addition, she wants to help parents be successful following reunification and provides help almost weekly to a mother of two little girls she once cared for.  Julies is truly amazing!
Find An Agency Near You
Agencies will give detailed information about licensing, training, and orientation.
Or Call
We are here to help
Mon-Fri: 8:30 - 5 and Wed: 8:30 - 7