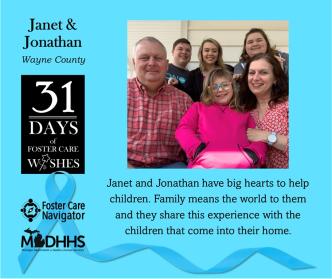 Day Twenty of 31 Wishes
---
Janet and Jonathan bring a lot of experience and knowledge to the foster care team, as they previously fostered and adopted through foster care.  Since reopening their foster home license, they have taken in two children and adopted one of them.  They are a resourceful family with a large support network through their church.  They are willing to care for children who display difficult and hard-to-manage behaviors. 
Janet and Jonathan have had days that have been extremely difficult.  On numerous occasions, Janet has had to leave work early, due to one of the children struggling in school.  Even when things get tough and professionals on the team do not readily have answers, they do not give up.
Janet and Jonathan realize the importance of family and keeping siblings together.  They enjoy spending time together—attending church and church activities together, riding bikes, going out to dinner, having game night, or eating together as a family while watching something fun on TV.  The foster care system is better because of dedicated, persevering families like Janet and Jonathan.
Find An Agency Near You
Agencies will give detailed information about licensing, training, and orientation.
Or Call
We are here to help
Mon-Fri: 8:30 - 5 and Wed: 8:30 - 7