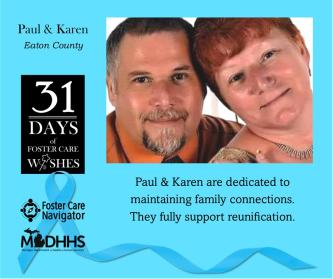 Day 1 of 31 Wishes
---
Paul and Karen are incredibly dedicated to caring for their grandchildren. They constantly advocate for the children and have uprooted their entire lives to make sure the children know and are connected with their family.  Karen and Paul relocated from Florida to care for their grandson and took placement of his sister at birth.  The family truly goes above and beyond the call of duty when it comes to foster parenting.
Paul and Karen are committed to reunification, but will adopt their grandchildren if needed. They always speak highly of the children's parents, even when the parents take steps backwards. Karen and Paul make the drive from Lansing to Ann Arbor twice a week for visits and always make the case plan and reunification efforts a priority. They truly exemplify what it means to be amazing foster parents.
Find An Agency Near You
Agencies will give detailed information about licensing, training, and orientation.
Or Call
We are here to help
Mon-Fri: 8:30 - 5 and Wed: 8:30 - 7