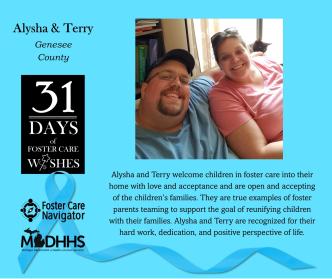 Day Two of 31 Wishes
---
Alysha and Terry have had the goal of keeping siblings together from Day 1 and have gone above and beyond to do so.  Ten months after taking in 2 brothers, they welcomed the third sibling into their home. 
Due to reunification efforts being unsuccessful, Alysha and Terry have begun the process to adopt the three boys.  They love having these children as a part of their family and cannot wait for them to be officially adopted!  Their two biological daughters have also been accepting of sharing their mom and dad with other children. 
Alysha, Terry, and their children are a loving and tight knit family that enjoys spending time together—having movie nights, going to the park, beach, or out to eat, visiting family, going on car rides, riding bikes, and having "Family Fun Day Friday Nights."
Find An Agency Near You
Agencies will give detailed information about licensing, training, and orientation.
Or Call
We are here to help
Mon-Fri: 8:30 - 5 and Wed: 8:30 - 7