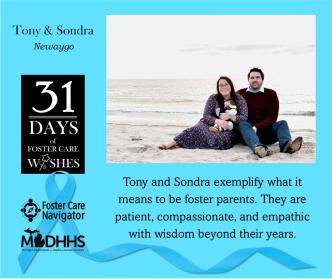 Day Three of 31 Wishes
---
Tony and Sondra have made an impact on the lives of children who have entered their home. Their first long- term placement was that of two nonverbal toddlers with significant trauma. The boys made leaps in progress while in the foster home, and Tony and Sondra continued to inquire about their well-being even after they left the home.
In October 2021, the boys were in need of a foster home placement  once again, along with their two siblings, and wanted to return to Tony and Sondra's home.  The foster parents made the changes and accommodations needed to open their home to all four children.  Despite the challenges they have faced, Tony and Sondra remain committed.  They are described as a true "foster to forever family" that is loving, warm, giving, resourceful, accommodating, and collaborative.
Find An Agency Near You
Agencies will give detailed information about licensing, training, and orientation.
Or Call
We are here to help
Mon-Fri: 8:30 - 5 and Wed: 8:30 - 7