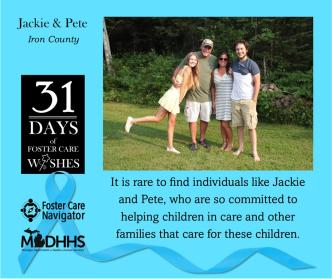 Day Eighteen of 31 Wishes
---
Jackie and Pete Judd are exemplary foster parents who work hard to meet the individual and developmental needs of the children in their care. They successfully build strong, positive, and healthy relationships with the children's parents while modeling positive parenting skills. 
Jackie and Pete use relationship-based parenting strategies and have endless patience and a knack for potty training. They accepted placement of two nonverbal sisters, ages three and five, and still in diapers. The girls had experienced such significant neglect that they didn't even know how to play with toys. No matter how difficult the behavior or circumstances of the case, Jackie and Pete remained committed to caring for the girls. They thrived by being with Jackie and Pete and quickly began meeting missed milestones, communicating, using the bathroom, and learning new things every day. 
In addition to fostering, Jackie and Pete started and operated two foster closets in two counties. They were instrumental in helping all of the UP Foster Closets get up and running when the original Foster Closet of Michigan dissolved. It is rare to find individuals who are so committed to helping children in care and the families who care for them. Jackie and Pete make an excellent team, and their ability to work so well together is a huge part of what makes them such amazing foster parents. 
Find An Agency Near You
Agencies will give detailed information about licensing, training, and orientation.
Or Call
We are here to help
Mon-Fri: 8:30 - 5 and Wed: 8:30 - 7