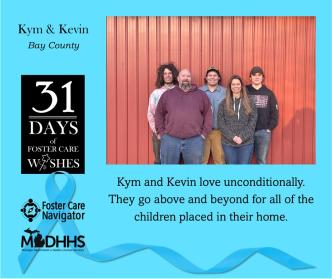 Day Seventeen of 31 Wishes
---
Kym and Kevin are the family that answers the phone late at night and accepts placements without hesitation.  They open their home to teenagers and help them acquire independent living skills, including obtaining a driver's license and a car.
Kym and Kevin always go above and beyond for the children placed in their home.  When the agency called regarding placement of a pregnant teen, the family accepted her and her cat. They made sure she attended all of her medical appointments and stayed in school, and they provided for all of the mother and baby's needs. 
Kym and Kevin give experiences that children may not have had in the past, such as going camping, fishing, working on cars, and going on vacations.  Not only do they love children unconditionally and meet each child's needs, but they also provide them with stability and direction even after they go home.
Kym and Kevin's biological sons have a good understanding of fostering and also play a role with the children placed in the home. They do their part to help by making children feel welcome, talking with them, and including them in whatever they are doing. This is an all-around AWESOME family!
Find An Agency Near You
Agencies will give detailed information about licensing, training, and orientation.
Or Call
We are here to help
Mon-Fri: 8:30 - 5 and Wed: 8:30 - 7