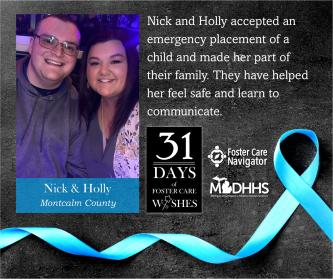 Day Fifteen of 31 Wishes
---
Nick and Holly embody the model foster family, including the child placed with them into their family and also taking steps to ensure she can maintain a relationship with her sister who is placed in another home.  Their natural parenting abilities shine! Nick and Holly do not mind discussing the child's parents during daily conversations and allow her to lead the conversation on her feelings about adoption. Their style of communication with one another demonstrates to the child how a safe, stable, healthy relationship should look.
Nick and Holly have truly displayed what it means to foster.  They did not begin their journey with the intent to adopt, but they have formed a family bond with the child placed in their home.  Nick and Holly have accepted her were she's at and have slowly helped her work on her goals instead of trying to make her fit into their family.
Find An Agency Near You
Agencies will give detailed information about licensing, training, and orientation.
Or Call
We are here to help
Mon-Fri: 8:30 - 5 and Wed: 8:30 - 7