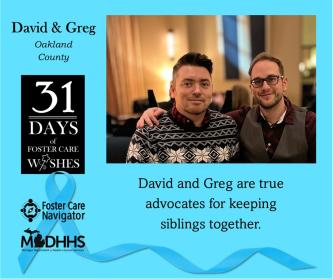 Day Fourteen of 31 Wishes
---
When David and Greg began the licensing process, they had never been parents before and only wanted to foster one child.  However, while they continued the process, an unlicensed relative needed respite care for 3 grandchildren due to some very challenging behaviors. David and Greg rose to the challenge, provided respite for the 3 children for a weekend and fell in love!  They informed their licensing agency that they would love to maintain connections to the family and were willing to provide respite whenever the relative needed.
Unfortunately, the relative placement could not be sustained and all 3 children needed a placement. Again, David and Greg rose to the occasion and accepted placement of the 3 children so they could maintain their sibling connection.  Since that time, David and Greg have attended every court hearing and therapy session.  In addition, they have advocated for services, allowing the voices of the children and members of the family to be heard and the family bond to be maintained. 
Find An Agency Near You
Agencies will give detailed information about licensing, training, and orientation.
Or Call
We are here to help
Mon-Fri: 8:30 - 5 and Wed: 8:30 - 7