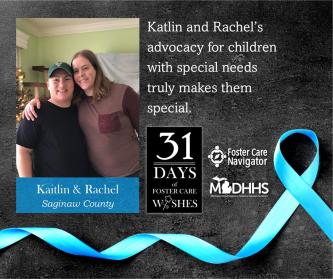 Day Thirteen of 31 Wishes
---
Katlin and Rachel are amazing foster parents and outstanding advocates.  They go above the call of duty requesting service providers, medical treatment, and higher educational support for the child placed with them, who is diagnosed with Autism and has been mostly nonverbal his entire life.  He requires around the clock adult supervision and intensive help with most daily living tasks. 
Because of Kaitlin and Rachel's commitment and advocacy for his needs, he has made many strides in his development, including progress in his speech and motor skills.  He now utilizes a device to communicate, is generally happy and sweet, displays affection with the foster parents and has fewer aggressive episodes.  Kaitlin and Rachel are creative in approaches to teach him new skills.  In addition, they nurture important familial relationships with relatives who are not able to care for him but want to remain involved in his life.   
Find An Agency Near You
Agencies will give detailed information about licensing, training, and orientation.
Or Call
We are here to help
Mon-Fri: 8:30 - 5 and Wed: 8:30 - 7