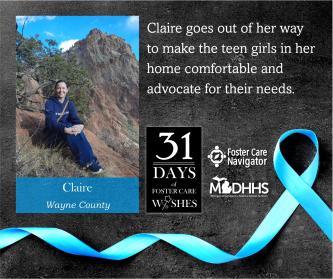 Day Twelve of 31 Wishes
---
Claire became licensed with hopes of fostering one Muslim youth.  Soon after she was licensed, she agreed to accept placement of a 3 youth who are refugees from Afghanistan.  Going from being a single person with no children to a parent of three teen girls overnight made for a challenging transition—but Claire has a resolute desire to help the girls adjust to their new home, community, and country.  She and the girls have been learning from each other and sharing their cultures.
Claire is not Muslim or Afghan herself, but she has made her home one that is welcoming to both.  When the local school was not a good fit for the girls, she found an alternative school that was just right for them. This, however, resulted in Claire needing to transport them 30 miles each way to and from the school daily.  With the help of her parents, she is determined to keep the girls in the alternative school despite the time and increased cost it entails.  Literally and figuratively, Claire goes out of her way to make the girls comfortable and advocate for their needs. 
Find An Agency Near You
Agencies will give detailed information about licensing, training, and orientation.
Or Call
We are here to help
Mon-Fri: 8:30 - 5 and Wed: 8:30 - 7