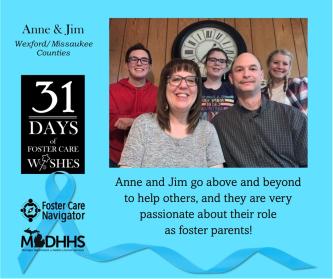 Day Ten of 31 Wishes
---
Anne and Jim never hesitate to accept a placement when they believe it will be a good fit for their family and the child, and they go the extra mile for each child they have welcomed into their home.  They almost always have a full house of children, and they make fostering look easy!
Understanding the importance of permanency, Anne and Jim support the entire foster care process, working as a team with children's families and the Department to achieve reunification and even formally expressing their intent to adopt when reunification is no longer an option!
Both caregivers are also very involved in the community and volunteer at the local foster closet and various other fundraising events for children in foster care. They truly serve children and their community well and make a positive difference in the lives of everyone they meet.
Find An Agency Near You
Agencies will give detailed information about licensing, training, and orientation.
Or Call
We are here to help
Mon-Fri: 8:30 - 5 and Wed: 8:30 - 7