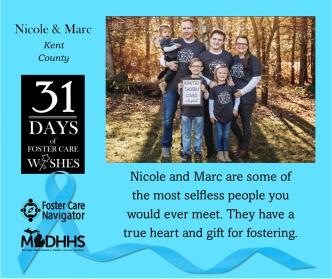 Day Thirty-One of 31 Wishes
---
Nicole and Marc faced a great personal tragedy this year in the unexpected loss of their beloved oldest son. Despite the pain, they have continued to care for a child placed with them—the medically fragile half-brother of their adopted daughter.  Nicole and Marc continued supporting reunification efforts, ensuring the child made it to all his parenting times and communicating with his parents.  They do everything in their power to provide quality childhood experiences while caring for his extensive medical needs.
Find An Agency Near You
Agencies will give detailed information about licensing, training, and orientation.
Or Call
We are here to help
Mon-Fri: 8:30 - 5 and Wed: 8:30 - 7