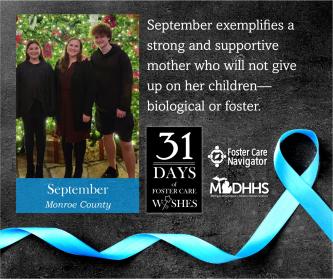 Day Thirty of 31 Wishes
---
A friend approached September about whether she might be interested in placement of a teenage child Learning that the teen had experienced two failed attempts at returning home and reunification looked bleak, September took the necessary steps for placement.  While she had to consider the severe issues and challenges presented by the teens past traumas, September wanted the placement to succeed.  She was able to obtain numerous supports, including therapy for them to work through some of the issues.  Her unwavering commitment has led to finalization guardianship for the teen.  Thanks to September, this teen has a place to call home, continues working through past issues in therapy, has stayed in school and plays high school sports.  
Find An Agency Near You
Agencies will give detailed information about licensing, training, and orientation.
Or Call
We are here to help
Mon-Fri: 8:30 - 5 and Wed: 8:30 - 7