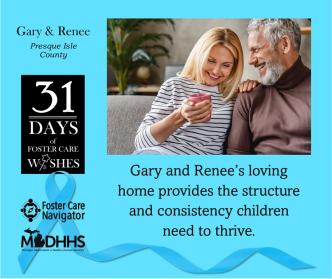 Day Twenty-Nine of 31 Wishes
---
Big hearts have led to a big family for Gary and Renee!  They have fostered for 8 years, adopted 5 children, and are in the process of adopting 2 more.  Their loving home provides the structure and consistency needed for children to thrive. Gary and Renee work closely with their team, which includes an adult daughter, to ensure that each child receives the services and resources they need to grow and succeed.  They utilize an "old school" approach to teach children many lessons they will value later in life—including using manners, showing respect, reading and following recipes, growing fruits and vegetables for healthy eating, raising animals for food, foraging for wild mushrooms, keeping their bedrooms clean, and even sewing. Most importantly, Gary and Renee demonstrate and teach love and kindness! 
Find An Agency Near You
Agencies will give detailed information about licensing, training, and orientation.
Or Call
We are here to help
Mon-Fri: 8:30 - 5 and Wed: 8:30 - 7