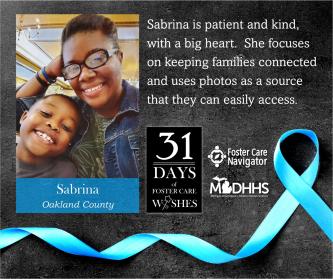 Day Twenty-Eight of 31 Wishes
---
Sabrina is a pro at caring for children with special needs such as autism.  In addition to the child she is caring for, she has his family in mind and tries to keep them connected, even when parenting visits do not occur consistently.   To do so, Sabrina created a  photo sharing page for family members to view.  She also keeps pictures of the child's family on the table for him to see each day.
Sabrina truly is a special person!
Find An Agency Near You
Agencies will give detailed information about licensing, training, and orientation.
Or Call
We are here to help
Mon-Fri: 8:30 - 5 and Wed: 8:30 - 7