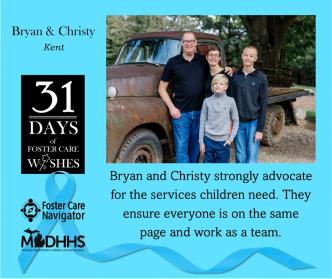 Day Twenty-Seven of 31 Wishes
---
Bryan and Christy have been foster parents for many years and have fostered ten children. They are very supportive of reunification and placing children with their relatives. For almost two years, Bryan and Christy have cared for non-verbal twins on the autism spectrum with many high needs. They have been amazing advocates for the children, ensuring they have essential services. The family has exhibited commitment to the children and utilized resourcefulness and patience while caring for them and meeting their needs.
Find An Agency Near You
Agencies will give detailed information about licensing, training, and orientation.
Or Call
We are here to help
Mon-Fri: 8:30 - 5 and Wed: 8:30 - 7