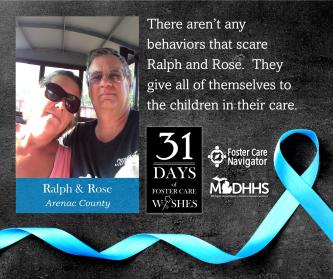 Day Twenty-Six of 31 Wishes
---
It would take A LOT to scare Ralph and Rose!  They accept children who others will not.  After six failed placements, Ralph and Rose cared for a child diagnosed with autism.  While in their home, she experiences success like she never had throughout her life.  They refuse to give up on any child placed in their care regardless of the child's needs or how tired they may become.  With acceptance and consistency, Ralph and Rose help children define their own normal. 
Find An Agency Near You
Agencies will give detailed information about licensing, training, and orientation.
Or Call
We are here to help
Mon-Fri: 8:30 - 5 and Wed: 8:30 - 7