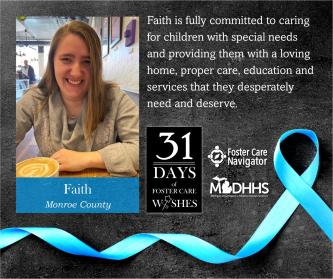 Day Twenty-Five of 31 Wishes
---
Faith is an extra ordinary foster parent who provides care for 3 children with special needs and has been fully committed to providing them with a loving home, proper care, education, and services that were desperately needed.  She has experience with children who have autism and other disabilities such as Down syndrome and cerebral palsy and takes a special interest in learning about trauma and the needs of people who have endured trauma.
Although Faith does not have any biological children, she is a natural nurturer.  Faith loves to be around and help children.  She has implemented structure and routine into the children's lives, leading to vast improvement in the children's language and daily living skills. The children in her care are all now thriving! 
Faith is very supportive of reunification.  She facilitates parenting time and maintains contact with the children's mother to help the family continue their relationships.  Faith is always happy to help, meeting the children and parents where they are at and helping them grow to the best versions of themselves.
Currently, Faith works full-time, is enrolled in a master's program, and balances all the children's  appointments and activities while being a single caregiver. She is an amazing team player who always going above and beyond expectations for fostering.
Find An Agency Near You
Agencies will give detailed information about licensing, training, and orientation.
Or Call
We are here to help
Mon-Fri: 8:30 - 5 and Wed: 8:30 - 7