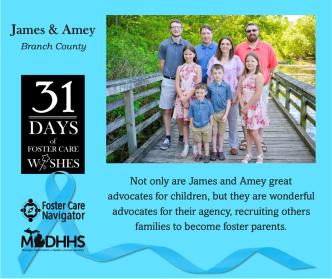 Day Twenty-Four of 31 Wishes
---
James and Amey began their foster care journey as relative caregivers in 2010.  It wasn't long before the two opened their hearts and home to unrelated children.  They have cared for over twenty children and adopted  four of them. 
James and Amey currently have placement of three related children.  Despite having a full home, they did not hesitate to take in their family when needed.  Amey is a stay-at-home mom who has dedicated much of her life to caring for others.  She is the primary caregiver for the children since James works outside of the home.    Caring for 7 children under the age of 13, Amey takes everything in stride and makes fostering look so easy! 
James and Amey realize their home is filling up quickly, and before long they will no longer be able to care for additional children.  Because of this, they have reached out to others in hopes of recruiting the next generation of foster families.  James and Amey are a huge asset to foster care, and their dedication to the vulnerable children is truly appreciated.
Find An Agency Near You
Agencies will give detailed information about licensing, training, and orientation.
Or Call
We are here to help
Mon-Fri: 8:30 - 5 and Wed: 8:30 - 7