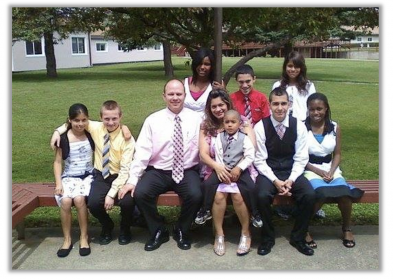 Jonathan: Fostering Personal Growth
Michigan Department of Health & Human Services
---
Jonathan, a father of 10 including children he adopted, said his foster care journey has been fun, challenging, inspiring, enlightening and everything in-between.
He jokes that at times there were so many kids in his home his life was like the classic movie Cheaper by the Dozen. But, in the end he said being a foster parent has been supremely rewarding.
His advice to anyone who is thinking about fostering is simple.
"Absolutely do it. If I can do it, anybody can," he said. "It is an amazing ride. It is an amazing journey. It gives our family trees more diversity and more character, and I love it."
Jonathan's journey began after he struggled to have children. He had an adopted sibling and his best friend, he later learned, was also adopted so foster care seemed like a natural choice.
"I didn't have any hesitation," Jonathan said. "It was extreme excitement. I had always wanted to be a father."
Besides, he was in his early 20s and knew everything—or so he thought.
Learning Along the Way
"I thought I knew everything about parenting and I hadn't even had a single child at that point," Jonathan said. "I was just so excited about it."
His first foster child, a 13-month-old baby, was quickly placed in his care.
"While from day one reunification was the goal, my heart was attached to my son," Jonathan said.
The primary goal of foster care is to provide a safe home for children until they can be reunited with their parents, if safe.
Jonathan quickly realized how much he didn't know, but things began happening quickly and he had to think on his feet.
He thought he'd wait a year before his next foster child, but he wanted to help as many children as he could. So, six months later he began caring for a second child. Then he agreed to help care for a third child for a weekend which became a permanent arrangement. Six years later he had fostered a handful of children including four he adopted.
It was a happy time in his life, but also a challenging one.
"I did not know nearly as much as I thought I did," he said. "Now I'm 47, with lots of experiences and I realize I still don't know as much as that 20-year-old thought he did."
Fortunately, he said, there are now many valuable resources to support foster parents, so they don't have to learn on their own like he did.
"I work as a Post Adoption Resource Center training supervisor," Jonathan said. "I always tell new parents, 'You are steps ahead of where I was because it was years before I said OK I need some help here to figure out what I am missing.'"
A Two-Way Street
Being a foster parent enriches a parent's life as much as a child's life, Jonathan said.
"It has made me more patient and given me the ability to empathize," Jonathan said. "To know me in my early 20s when this all started is to know two very different people."
Today, he said he is filled with pride. He has a daughter who is a Marine, a son who is a soldier, and all his children have positive values. Some of them want to foster themselves. My children "judge people by the content of their hearts and not the color of their skin, to borrow a line from Martin Luther King," Jonathan said.
"Seeing that end result of young people who are able to make it on their own… and have a healthy outlook on life—that for me was my goal from the beginning."
Jonathan hopes others will follow in his footsteps saying foster parents don't have to be perfect. Love is all it takes to make a life-long positive impact on a child.
This article was originally published by the Michigan Department of Health and Human Services on January 14th, 2021. To view the original publication, click HERE.
Find An Agency Near You
Agencies will give detailed information about licensing, training, and orientation.
Or Call
We are here to help
Mon-Fri: 8:30 - 5 and Wed: 8:30 - 7