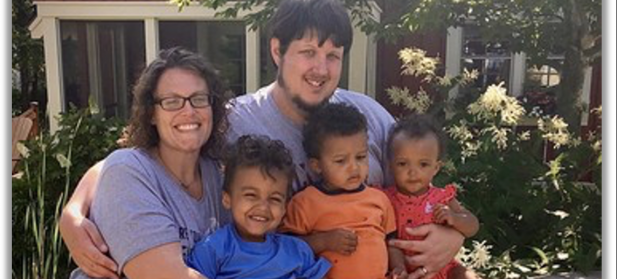 Allyson: A Magical Foster Journey
Michigan Department of Health & Human Services
---
Allyson Reid and her husband have welcomed seven children into their home since becoming foster parents in 2015, a journey Allyson calls rewarding and enriching.
Making a difference in the lives of children can be a profoundly positive experience for foster parents.
"What makes it worth it is the knowledge that no matter what, there are seven kids that I did something to make it better… Hopefully the things we did stick with them in some way," she said.
Fostering Young Children
The Reid family has cared for children who were a few days to a few years old.
With more than 12 years of experience as a nanny and preschool teacher, Allyson chose to care for some of the younger children in care in Michigan.
Having very young children in your home, is an experience Allyson describes as magical.
"Having kids in your home that are in that discovery stage is beautiful," she said. "It makes you realize that everything is an adventure…"
"I think it has made me appreciate the smaller things and let go of the things that are not necessary for us to hold onto as grownups."
Working with Biological Families
Allyson and her husband eventually adopted three siblings they cared for, but they also worked hard to reunite other children with their families—which is the primary goal of foster care.
"We are excited to reunite them with their family," Allyson said. "I've never met a parent who didn't love their kid in their own way. They don't always know how to be a parent yet, but they love their kids."
Sometimes a parent is just going through a difficult time. For that reason, Allyson works hard to forge relationships with parents, sharing milestones, making photo albums, finding ways to keep them involved and even mentoring them.
Making a Difference
Allyson jokes that her family's foster journey started because she and her husband had spare rooms in their home and they didn't know what to do with them. In truth, their dedication stems from deep-seated belief in doing all they can to help their community.
"We want to do things—as cheesy as it sounds—to make society a better place," she said.
She encourages others to do the same saying all it takes to be a really good foster parent is to be flexible, be willing to learn, have a willingness to help and, "have compassion not just for the kids, but their families."
Allyson is now a Foster Care Navigator in Michigan—one of many current and former foster parents who help others navigate their own foster care journey.
Getting Involved
"Call me!" Allyson says enthusiastically to anyone interested in fostering or even unsure about whether they would make a good foster parent.
Navigators like Allyson can answer any questions, no strings attached.
"We will even tell you what is hard about it," Allyson said.
But, if you don't call you will never know if foster parenting is right for you.
"You won't know if you never try. And even if just one time, you see the look on a kid's face when they get to go back home with their parents, it's worth it."
Connect with a foster care navigator like Allyson to learn more about how you can make a difference for children in Michigan.
This article was originally published by the Michigan Department of Health and Human Services on January 25th, 2021. To view the original publication, click HERE.
Find An Agency Near You
Agencies will give detailed information about licensing, training, and orientation.
Or Call
We are here to help
Mon-Fri: 8:30 - 5 and Wed: 8:30 - 7