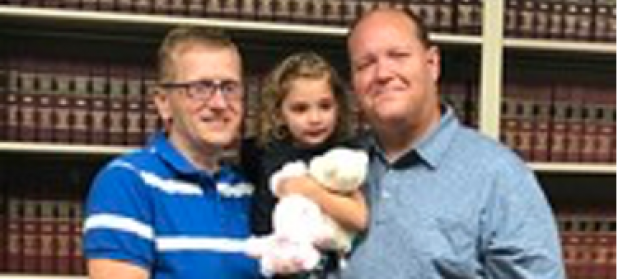 Louie: Fostering Hope and Dispelling Myths
Michigan Department of Health & Human Services
---
Louie and his partner have dedicated much of their lives to helping children in Michigan.
The numbers speak for themselves:
•  12 years fostering
•  30+ children cared for
•  5 children adopted
It is safe to say they know a thing or two about what it takes to be foster parents—but that wasn't always the case.
Louie knew he wanted to start a family and help children, but thought for years he wouldn't qualify. People hold many common misconceptions like thinking they need to own a home, have a college degree, or in Louie's case be in a straight, married relationship.
In reality it mostly just takes wanting to make a positive difference in your community.
"Have the open arms, open heart… and create that loving, healing home for a child," he said.
Louie is now a Foster Care Navigator, meaning he helps others make sense of the often-confusing and sometimes-daunting decision to become a foster parent.
He encourages anyone thinking about it to reach out—no strings attached.
"Don't be afraid to just take that first step—make that first call to a Foster Care Navigator," Louie said.
Dispelling Misconceptions
There are many reasons that people think they can't qualify to be foster parents. So what's really the most important qualification to be a good foster parent?
"It takes an individual that has a love for children. An individual that has a big heart, that really sees the best in everyone, and has the patience and willingness to stay in it knowing that the children have been through a lot of trauma." Louie said.
As a member of the LGBTQ community, Louie remembers being interested in becoming a foster parent, but thinking he couldn't.
"There was the misconception that if you're gay, you can't adopt or foster. I thought… that having a family wasn't in the cards for me," he said.
When he and his partner learned they could, they became licensed and quickly received a phone call asking them to foster a child. They were thrilled.
"It made me realize that I was wrong all of those years and that it is possible to be a loving, stable, caring home for a child," he said.  "People need to see that what it takes is "an individual that has the heart, desire and motivation to care for a child."
Don't self-disqualify, Louie emphasized. You likely have what it takes to help children in your community, and it is an experience that can bring joy to a foster parent's life.
"You have to learn to be able to laugh at yourself and not take life so seriously. You have to live in the moment," Louie said about working with children.
Start Small. Volunteer.
Louie recognizes that becoming a foster parent is a big decision, but he has some simple advice. Start small.
"Volunteer. Start by reaching out to your local agencies and asking about volunteer opportunities…," he said.
You may be able to help foster parents by making a meal, or babysitting children while they run errands. It gives you a chance to see if fostering is a good fit for you.
"And don't be afraid to just take that first step. Make that first call to a Foster Care Navigator. Attend an orientation. Learn what it's really about. Don't be afraid to reach out," Louie said.
This article was originally published by the Michigan Department of Health and Human Services on February 1st, 2021. To view the original publication, click HERE.
Find An Agency Near You
Agencies will give detailed information about licensing, training, and orientation.
Or Call
We are here to help
Mon-Fri: 8:30 - 5 and Wed: 8:30 - 7