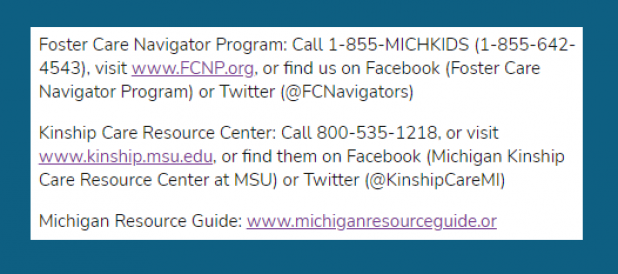 Relative & Kinship Care Information & Overview
Kimberley Baetz
---
When an individual or family decide to become foster parents, they often have months to prepare while they pursue their licensure – Attending orientations, selecting an agency, attending PRIDE/GROW training, and buying furniture, lock boxes for medication, diapers, etc. However, in the case of kinship and relative placement families, this can be an entirely different experience.
When a child or teenager goes into care, workers start fanning out right away in search of a relative (or other adult with a close relationship with that child/teen) who is available for immediate placement. When they find someone who is willing and able to care for that child or teen, there are just a few things to take care of:
A basic house check to ensure there are no safety concerns,

A background check to run your license through the child abuse registry, and

Handing off a big 'ole stack of paperwork full of information for your reference
This can all happen over the course of a couple of hours and, in no time at all, you're welcoming a child or teen into your home.
While some families may be closer to the case prior to a child or teen's removal from their home (especially if you were involved in the CPS report), it is not uncommon for family members who are contacted for placement to be more removed from the situation – Especially if you're a more distant relative. Because of this, it's possible you may feel a bit "thrown into it" if you find yourself in the position of taking in a child or teen through kinship or relative care. So, we're here to help break it down for you!
This happened in my family, what should I do first?
The first thing that we recommend is to reach out to the Kinship Care Resource Center (KCRC) with MSU in Lansing, MI and request support from a Kinship Care Navigator. This program is small, with just two Navigators on staff for the whole state, so rather than ongoing support and check-in's, they are more equipped to provide suggestions for individual issues or emergency situations such as: "I just had a child placed in my home, now what?", "I'm a relative placement and I'm not receiving payments", etc. Kinship Caregivers often need legal advice too, so a Navigator can connect you to their colleagues with Chance at Childhood, which staffs a free legal clinic for kinship families. The KCRC also has access to some funding through several Area Agencies on Aging to provide respite to Kinship Caregivers. Respite funds can pay for an extra-curricular activity, summer camps, or tutoring, which gives you, the caregiver, a break. Eligibility for respite requires the caregiver be over the age of 55, and currently the funding is only available in Clinton, Eaton, Ingham and Washtenaw Counties. Other services include workshops and trainings for caregivers, along with a monthly newsletter. Anyone can subscribe at this link (https://kinship.msu.edu/Contact).
Next, we recommend getting in contact with us, the Foster Care Navigator Program! Foster Care Navigators are individuals who have been or currently are foster parents themselves and are now on staff with us to provide continuing support to kinship, relative, foster, and adoptive parents and caregivers throughout the state of Michigan. We're here to answer your questions, help you navigate the ins and outs of the child welfare system, and continue to check in with you throughout the course of your placement so you never feel like you're in this alone. We've been there, we see you, and we're eager to help!
We also can't emphasize enough how important it is to find a support group! Whether parenting/being a caregiver is brand new or you've got years of experience raising your own kids, becoming a kinship or relative caregiver will bring many "firsts" into your life. When a child or teen in your care is displaying behaviors that you don't know how to navigate, when you want to celebrate their accomplishments, or when you just need to vent a bit, doing it in the company of other people who understand your experience can make all the difference.
What's the difference between kinship/relative care and foster care?
One major difference between kinship/relative care and foster care is that, as a kinship or relative caregiver, you are not required to be licensed prior to having a child or teen placed in your home. This means that you are able to accept placement and skip licensure all together, or accept placement and pursue licensure during/after the fact. However, while it may be tempting to skip the hassle, we highly encourage you to consider it – Here's why!
While every child and teen in care will have a case worker that you will work closely with, they are not there to be your advocate. When you pursue licensure though, you will have the added benefit of the support that comes with having your own licensing worker. This means an advocate in your corner helping you keep an eye on the compliance of your home and to go to bat for you if complications arise.
Getting licensed also gives you a bit more ground to stand on in the credibility department. Because some policies and procedures are written to apply specifically to licensed foster families, having that official licensure gives you more right to say what does and doesn't work for you. One way that this may show up is through application of the Foster Parent Bill of Rights. Because of the grey area created when care providers are not licensed foster parents, you may or may not have the same right to list preferences around appointment and court dates, advocate for specific services for the child in your care, or attend family team meetings that you would have as a licensed foster parent protected under the Foster Parent Bill of Rights.
One benefit that you do have on your side as a relative or kinship provider (licensed or not) is that you are more likely to receive variances (changes/alterations to the rules) in your home as workers will often go above and beyond to make sure a relative placement works out. An example of this could be a variance to the rule that requires each child to have 40 square feet of space. If your home had a room with 70 square feet that you intended for two children to share, a variance may be made to allow it, even though the official rule would require 80 square feet. However, it's important to note that there must be justification for any variances that are made. In this example, the reason could be that it's the only room you have available and you're trying to keep a sibling group from having to split up.
Finally, your licensure will give you access to resources and support, such as additional financial assistance and the opportunity to attend PRIDE or GROW training, conferences, and more!
Am I eligible for financial support as a kinship/relative caregiver?
Short answer: Yes!          Slightly longer answer: Yes, but there will be some hoops to jump through…
If you don't already have one, we first encourage you to save a copy of the Foster Parent Payment Handbook for your records. It can be accessed here: https://www.michigan.gov/documents/mdhhs/Provider_Payment_Handbook_648470_7.pdf
Relatives: If you are an unlicensed relative caregiver related to the child or teen in your care by blood, you qualify for relative payments. This is something that your worker should inform you of without your prompting, but if you are a current relative caregiver and not receiving these payments, we encourage you to give your worker a call!
Fictive Kin: As a fictive kin (someone not related by blood or through marriage) you unfortunately are not eligible for relative payments and the only way you would become eligible for financial support is by becoming a licensed foster parent.
Licensure Payments: As a licensed foster parent, you will receive payments for the child(ren) in your home in accordance with their DOC (Determination of Care) level. You should be working with the foster care worker to make sure that you are receiving the correct level. If you need further assistance you can reference the Foster Care Provider Payment Handbook.
Family Incentive Grant (FIG): FIG is money set aside to support families facing barriers while pursuing licensure and is often available to relative and kinship care providers. So, if you are seeking licensure and are in need of home repairs, additional beds, etc. in order to be in compliance with licensing guidelines, ask your worker about FIG!
Guardianship Assistance: If you are pursuing guardianship and have been licensed for six months or more, you can also apply for monthly guardianship assistance payments. However, it's important to note that this has to be applied for BEFORE guardianship is filed. Additionally, sometimes the processing period can take a little while, so be sure to talk to your worker about the expected timeline for when you will start to receive those payments so you don't find yourself unexpectedly caught in a window of time where you are receiving no financial assistance at all.
---
Resource List:
We know this process can be an overwhelming one, but please remember that you're not in it alone!
Foster Care Navigator Program: Call 1-855-MICHKIDS (1-855-642-4543), visit www.FCNP.org, or find us on Facebook (Foster Care Navigator Program) or Twitter (@FCNavigators)
Kinship Care Resource Center: Call 800-535-1218, or visit www.kinship.msu.edu, or find them on Facebook (Michigan Kinship Care Resource Center at MSU) or Twitter (@KinshipCareMI)
Michigan Resource Guide: www.michiganresourceguide.or
Find An Agency Near You
Agencies will give detailed information about licensing, training, and orientation.
Or Call
We are here to help
Mon-Fri: 8:30 - 5 and Wed: 8:30 - 7