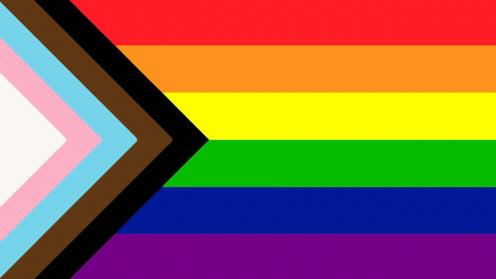 What Your LGBTQIA+ Foster Child May Want You to Know
Kimberley Baetz
---
LGBTQIA+: Lesbian, Gay, Bisexual, Transgender/Trans, Queer/Questioning, Intersex, Asexual/Aromantic, and more!
As we celebrate Pride Month this June, we want to take some time to reflect on some things that may be helpful to know if you have an LGBTQIA+ youth in your life (or even if you don't!).
First of all, thank you for taking the time to do some reading on the topic! One mistake that people sometimes make is asking or expecting the LGBTQIA+ people in their lives to bear the responsibility of educating them. This can be an especially difficult dynamic to navigate in a parent/child relationship. SO, doing your own research and finding resources to increase your understanding can be a very powerful act of love!
At the same time, it's very important to follow their lead. Just because something works well for one person doesn't mean it's the best approach for everyone (like most things, right?).
With that in mind, here are some good points to consider:
If a child/teen has come out to you, congratulations! It's a big deal that they felt comfortable sharing that part of their identity with you, and it says a lot about the efforts you've made to establish a relationship of safety and trust.

Trust that they are the expert of their own experience. No matter what you believe, consider first that what they're saying is true before making comments like "it's just a phase" or "you're too young to know for sure".

It can also be helpful to recognize that identities are fluid and may (or may not) change over time. Even if the child/teen in your life comes to you later to share a new label or something else they're exploring (or even to say they no longer identify as XYZ), it doesn't devalue their previous identity nor mean that they were confused or making it up.

Avoid "I love you no matter what" or "I love you anyway" statements. While these may be well intended, they can accidentally translate to "There's something wrong with you, but don't worry, I still love you," which can be very painful. Instead, try "thank you for sharing that with me, I love you", "how can I best support you?" and "I love getting to know the most authentic you".

Ask them questions that show your love and interest. While it's not their responsibility to educate you, this may be something they're excited to talk to you about!

Be honest, but be considerate. It may be an adjustment for you, but as an adult who loves and cares for them, it is your responsibility to find ways to adjust that don't burden them. Sharing that you're out of your element may be appropriate as long as the loudest message is that you love and accept them and are willing to put in the time and effort to learn. Finding a support group with other adults who can relate is not a bad idea either!

Do your research! While it's true that they may be excited to talk to you about their identity, its truer that it's your responsibility as the adult in their life to educate yourself as well. We hope that the resources below can be a good jumping off point and that you'll continue to pursue a deeper education and understanding in order to best support your loved one(s).
LGBTQIA+ Resources
If you have an LGBTQIA+ child or teen at home and are looking for more information and ways to support them, The Trevor Project's resource page is a great place to start! Visit TheTrevorProject.org/Resources.
Are pronouns beyond she/her or he/him new to you? Practicing can make a HUGE difference! This website allows you to select from a list of pronouns and creates fill in the blanks for you to get an idea for what sentence structures might look like when referring to people who use pronouns you may not be familiar with yet. Visit https://pronouns.minus18.org.au/
Additionally, if the LGBTQ+ teen at home is between the ages of 13 and 19, Q Chat Space is a great place for them to participate in live, online chat-based discussions (no video or audio) with other teens. All chats are facilitated by experienced staff who work at LGBTQIA+ centers around the country. Learn more at QChatSpace.org.
Happy Pride Month!
Wishing you love, support, and understanding in all of your relationships always.
Find An Agency Near You
Agencies will give detailed information about licensing, training, and orientation.
Or Call
We are here to help
Mon-Fri: 8:30 - 5 and Wed: 8:30 - 7