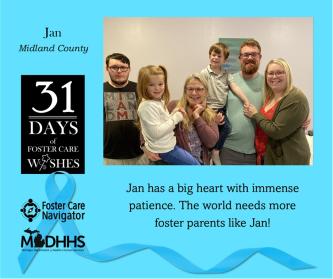 Day Five of 31 Wishes
---
Jan has been a consistent, positive support for the child placed in her home.  She is the type of person and foster parent who leaves you thinking to yourself, "I sure wish we had more Jans in this world!" Jan has immense patience and the biggest heart. She does not shy away from making sure the child placed with her is provided everything he needs. She always keeps the professional team updated and maintains open and honest communication. Jan's commitment, advocacy, and care for the children in her home is appreciated and does not go unnoticed.
Not only is Jan a strong source of support the child placed with her, but she is always looking for additional supports for him. Unfortunately, maintaining family connections is one of the most challenging barriers children face after being placed in foster care. To help reduce this barrier, Jan provides supervision of contact between the child and his out-of-state relatives.  This type of care does is apparent to the child as well, who recently asked Jan to provide permanency for him. Having the heart that she does, Jan responded "I was just waiting for him to ask."
Find An Agency Near You
Agencies will give detailed information about licensing, training, and orientation.
Or Call
We are here to help
Mon-Fri: 8:30 - 5 and Wed: 8:30 - 7