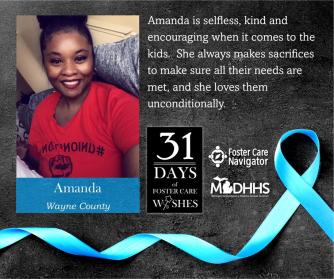 Day Six of 31 Wishes
---
Amanda recently helped two beautiful boys who were placed with her return home with their mother.  She continues to help the mom out with their daily needs and to provide for the boys. Amanda also goes above and beyond to make sure that the boys and the children that remain in her home are able to maintain the special relationships they have built with one another. 
This family is truly inspiring!
Find An Agency Near You
Agencies will give detailed information about licensing, training, and orientation.
Or Call
We are here to help
Mon-Fri: 8:30 - 5 and Wed: 8:30 - 7