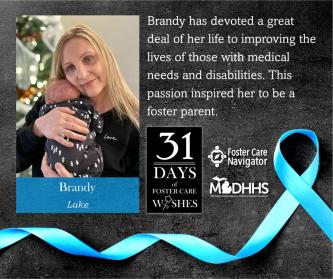 Day Seven of 31 Wishes
---
Brandy's passion for helping people with medical needs and disabilities inspired her to become a licensed foster parent for medically fragile children. She exudes all of the values and skills desired in a foster parent—compassion, dedication, flexibility, advocacy, patience, organization, communication, and the ability to work well children's relatives. Her devotion to the children in her care has greatly improved both the quality of their lives and their outcomes.
Brandy has gone above and beyond caring for children in her home who have suffered severe trauma. She has used creative thinking and advocated for them, and the children are thriving as a result of her efforts.
Brandy is an inspiration, demonstrating that breakthroughs are possible with teamwork, love and perseverance.
Find An Agency Near You
Agencies will give detailed information about licensing, training, and orientation.
Or Call
We are here to help
Mon-Fri: 8:30 - 5 and Wed: 8:30 - 7